By Stephen Vance, Staff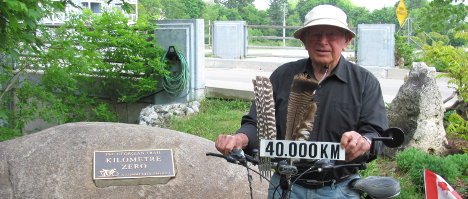 Meaford resident Hugh Timmerman is reaching milestones in his eighties that many 30 year-olds would struggle to achieve. The 83 year old stays active by riding his bicycle – a lot.
This week the odometer on his handlebars rolled over to 40,000 kilometres, with nearly all of those kilometres pedalled on the Georgian Trail between Meaford and Collingwood, including his annual Terry Fox rides which have raised several thousand dollars for cancer research in recent years.
Reaching the 40,000 kilometre milestone was the result of 15 years of riding on the trail, which was born from retired railway tracks.
"I do it for my health mostly. It's a really good way, I feel, to stay healthy because you take the weight off your joints, but you're still moving everything around," said Timmerman.
While 40,000 kilometres by bicycle over 15 years is an impressive achievement for an 83 year-old, Timmerman has his eye on an even more impressive goal – 50,000 kilometres.
"I have my first 1,000 kilometres in this year, and I normally ride 3,000 to 5,000 kilometres per year. I wouldn't be surprised at all (to reach 50,000 kilometres), we're a long-living family with eight of us, and we're all past 80," explained Timmerman with a smile.