Staff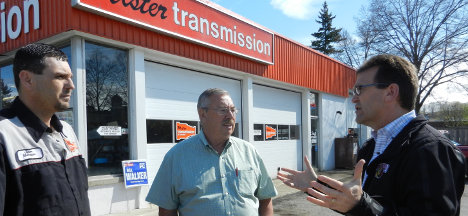 Bruce-Grey-Owen Sound candidate Bill Walker today rolled out a plan for how the Ontario PC party will put job creation ahead of all other goals.
"We've said in no uncertain terms that we will clear a path for business folks and skilled-trades workers to create jobs by lowering the apprentice-to-journeyman ratios and by scrapping the College of Trades," Walker said. "These two barriers stand in the way of 200,000 new jobs in Ontario over the next two years alone."
During his stop at an auto service shop in Owen Sound, Walker heard first-hand that the trades people are unanimous in their call for these reforms.
"The College of Trades is a job killer and it needs to go," said Steve Reid, manager of Mister Transmission in Owen Sound. "This is nothing more than a tax grab. There is absolutely no value to me or my customers."
Walker has fought hard against the College of Trades – an NDP-backed Liberal bureaucracy created solely for the purpose of imposing new taxes on trades people and small businesses, such as hair dressers, auto mechanics, plumbers and electricians.
Walker said it's a paradox that the other two parties are building more barriers to entering the skilled trades when in Grey County youth unemployment hovers at 21 per cent, higher than the provincial average.
"I'm absolutely committed to making the path to skilled-trades jobs more flexible, and creating more jobs here in Bruce-Grey-Owen Sound so that our kids don't have to leave home to start a career or have a family," Walker said. "Southwestern Ontario has suffered major losses with closures, such as the PPG Glass, Veyance Technologies Canada — the former Goodyear plant, and Terra Footwear plants to name but three large local manufacturers that we have lost in Bruce-Grey-Owen Sound in the past few years. It's time we turn this around."
The details of the Ontario PC party's http://ontariopc.com/millionjobsplan include:
· Taking urgent action on a turnaround plan to balance the budget within two years.
· Modernizing Ontario's apprenticeship rules to create 200,000 new jobs.
· Reducing taxes on employers by 30% creating 120,000 new jobs.
· Bringing Ontario energy bills under control to help employers create 40,000 new jobs