Staff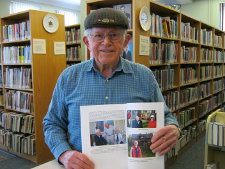 The Meaford Public Library recently received a book from local author Hugh Timmerman. He donated his book Bombers in the Night Sky: A True WWII Short Story, including the Loss of Halifax Bomber MZ563 LK-Y.
The book is divided into two sections: in the first part, Timmerman writes about his personal wartime memories, including his witnessing of the downing of a Halifax bomber over his family's farm. In the second part, Timmerman reveals details that he uncovered about the war through his own research.
In particular, he explains how he found and met up with Stanley Sparkes, the pilot of that plane. A second Halifax bomber had crash-landed only a couple of miles away from Timmerman's home that same night. Eight crew members of both aircraft managed to avoid capture.
In the above photo, Timmerman holds his book open to the photograph of him and Stanley Sparkes, discussing this seminal experience.