Staff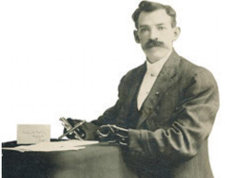 The true story of local entrepreneur, inventor and Ripley's Believe It or Not star Andrew Gawley will unfold on the Meaford Hall stage during four performances this April 24 through 27.
With both matinees and evening shows available and tickets priced at only $5 for students and $15 for adults, this remarkable world premiere should not be missed.
Many patrons coming in to purchase tickets have shared their memories of 'The Man With Steel Hands' with the staff of Meaford Hall. It is obvious that their encounters with Andrew Gawley left a deep impression that has stayed with them for their entire lives! Those attending this performance can expect to experience the same enduring sense of wonder at the man's heartwarming story.
Meaford Community Theatre is proud to bring to life this full-length play about one of the area's most amazing citizens. The volunteer-run, not-for-profit organization has been following its mission of entertaining and enriching the community through the dramatic arts since 2011. A generous donation by the Meaford Hall & Culture Foundation has assisted with making the production of this show a reality.
Read on for an interview with the playwright, Meaford's own Harley Greenfield.
1. You have been a Councillor for many years and are currently the Deputy Mayor of Meaford. It is safe to assume you are already a busy man! What inspired you to write a play about Andrew Gawley?
1) I remember seeing Mr. Gawley when I was very young, and could not help but wonder about his hands. I had an uncle who dealt with Andy frequently, and he always credited him for his ability in doing much meaningful work with his steel hands. Andrew eventually became a very famous individual. After his tragic accident, he held down steady jobs, starting in a cigar shop, then delivering mail in the urban area, to eventually becoming an entrepreneur in Meaford. He owned a building that housed a dry cleaners and his bicycle shop. He was broadcast in the old movie newsreels that were commonly shown before motion pictures. These reels were distributed and viewed on every continent of the earth(except Antarctica). And he especially achieved fame travelling with Ripley's Believe It or Not Shows in the 30s and 40s. The fact that he overcame a terrible physical tragedy to become a noted celebrity was a great inspiration to me. This man needs to be remembered.
2. Your play is based on a man who lived in the late 1800s. What kind of resources did you make use of to get the facts you needed?
2) Resources were relatively few, and sometimes contradictory. Used the Meaford Museum, Grey Roots, some material from a local historian, Mr. Garry McEachern (who is featured in the play), and also talked to a few of Andrew's business colleagues who remembered him.
3. With this being the first time the play is performed, officially it is a world premiere! What have you enjoyed the most about taking the play from page to stage?
3) The play has been completely rewritten 3 times, and many additions/deletions occurred. My best satisfaction was when the Meaford Community Theatre executive chose it to be this spring's presentation. I am strictly a very amateur play writer,
and do not even call myself by such a title. It is a pleasure for me to do something which I hope will have entertainment and educational value for the community.
4. Some people may be familiar with the story of Andrew Gawley; many more will be learning about him for the first time. What do you think will surprise the audience about this show?
4) For those who knew Mr. Gawley, I am sure the play will bring back many memories of his presence. He was a devoted Christian, and a solid community minded individual, always kept abreast of local, provincial and federal politics. For those who never knew the man, or even heard of him, I hope it will impress upon him some of the many activities he was able to do with his steel hands. His unique ability to master the movement of them, the physical strength he displayed with them, and yet the tenderness and caring that he offered through them is intriguing. He was a very caring man, and very fond of visiting with young children who often came to watch him at his bike shop.
5. Andrew Gawley: The Man With Steel Hands tells the story of a man who overcame serious physical challenges. How do you think Mr. Gawley's story will challenge the viewer's ideas about physical ability?
5) I definitely hope everyone will take with them the message that a physical impairment is something that can be overcome. We must remember, when Andrew Gawley was mercilessly mauled by the huge sawmill blade, most people thought at first that he would surely die, and then that he would be absolutely helpless for the remainder of his life, a life that would only lead to misery and despair. But Andy was a fighter, a true life survivor, and he would not succumb to his injuries. He was likely a hundred years ahead of his time when it comes to proving to the world that a handicapped person can be not only a contributor, but also a leader.
For more information on this and other Meaford Hall events you can visit their website to buy online at meafordhall.ca, call 1.877.538.0463 or drop by the Box Office.