Staff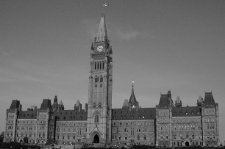 Recently, Larry Miller, MP for Bruce-Grey-Owen Sound, seconded M- 452, a motion put forward in the House of Commons by Cheryl Gallant, MP for Renfrew- Nipissing-Pembroke, that deals with firearms reclassification, and various reforms to firearms regulation. M-452 would amend Sections 117, 118 and 119 of the Firearms Act to establish a "Firearms Experts Technical Committee" with the goal of restoring public confidence in the functions and operations of the Canadian Firearms Registration System.
This committee would be permanent and would oversee such things as firearms reclassification and would have regulatory powers with regards to the safe handling of firearms.
In a press release, Miller said that "essentially, M-452 would remove the responsibility from the RCMP for classifying categories of firearms and place this responsibility within the scope of the duties of the Firearms Experts Technical Committee. The committee would be composed of the following members: 1) RCMP, 2) Ontario Forensic Centre, 3) four individuals appointed to the committee as civilian firearms experts. Furthermore, M-452 would place a moratorium on firearms reclassification until the permanent committee is in place."
"Having a safe, fair and transparent firearms registration system is a top priority for law- abiding hunters, anglers and sportsmen and indeed all Canadians," said Miller. "This motion will end the arbitrary reclassification of firearms and will establish a committee that oversees firearms registration in an open and transparent fashion and that operates with direct civilian oversight."
For more information, the text of the motion, and to support the M-452, please visit;
http://responsiblefirearmsreform.ca/stop-reclassification-confiscation/.