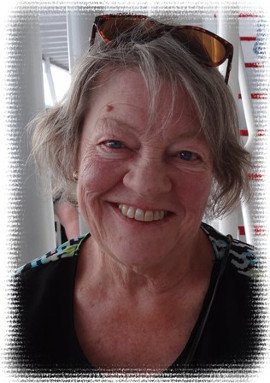 Jan Smith was born on August 12, 1950, in Hampshire, England, to John William Smith and Rosetta Peggy (nee Hobbs) and died on August 7, 2020, after a brief illness. She emigrated in 1980, first to the United States and then to Canada. She leaves behind her husband of 31 years, Richard, her children, Matthew and Laura (Rod), and her darling grandson, Wesley.
After completing her schooling in England, Jan taught in London, then Cambridge. After emigrating, Jan worked at Brampton Caledon Community Living and Peel Children's Aid Society, while completing her BSW at York University and her MSW at Wilfrid Laurier University. After moving to Meaford, Jan had her own private practice (adoption) until she retired a few years ago.
Jan adored her grandson and cherished every second she could spend with him. She was there at his birth and he was here when the paramedics took his 'Nana' to the hospital. They had great times together and loved each other deeply!
Jan loved to learn, whether by travelling or reading or attending LifeLong Learning sessions in Collingwood, Thornbury, or Owen Sound. She volunteered - with the Meaford Good Food Box and the school Breakfast Club and any number of other groups. She wrote letters for Amnesty International. She walked the 60km. Princess Margaret Hospital 'Walk To End Breast/Women's Cancers' seven times! Jan was tenacious, a fighter in the best sense of the word. She fought this illness just as determinedly as she fought her other battles in life. Jan loved her 'kids' – her Matt and Laura, all the children she taught in England, all the foster kids she worked with at Peel CAS, all the adoptees she placed. There'll be a huge hole in many lives, and memories galore!
Cremation has taken place and there will be a celebration of Jan's life at a later date. Thank you to the doctors and nurses at Grey Bruce Health Services Meaford and Owen Sound (CCU and ICU). As your expression of sympathy, memorial donations may be directed to the Meaford Hospital Foundation or Friends of the Meaford Library (cheques only please), and may be made through the Ferguson Funeral Home, 48 Boucher St. E., Meaford, ON, N4L 1B9, to whom arrangements have been entrusted. www.fergusonfuneralhomes.ca