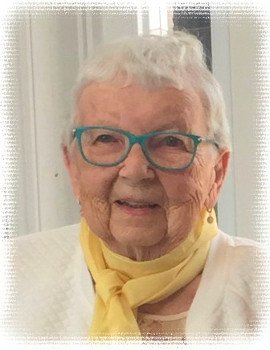 Wilda Coffin of Collingwood, and formerly of Meaford, passed away peacefully at Hospice Georgian Triangle 'Campbell House' on Thursday, May 14, 2020, at the age of 97.
Born in Meaford on March 16, 1923, she was a daughter of the late Earl and Ina (nee Fox) Trouton. Wilda married the love of her life, Lloyd Coffin, on May 6, 1944, and was predeceased by him in 2000.
She was predeceased by her brother Donald Trouton, his wife Ruth, and her nieces Patricia and Mary-Ellen. Wilda was a very special aunt to Carla Bull and her husband Jesse and their daughters Lauren and Ali. She was also predeceased by her brother-in-law Roy Coffin and will be remembered fondly by her sister-in-law Helen and niece Gale Leflet.
Wilda was a wonderful friend and neighbour and will be missed dearly by Anne Marie O'Brien. She will be remembered for her kindness, generosity, humour, wit, and the care and compassion she showed to both people and animals.
A private family service will be conducted at Ferguson Funeral Home in Meaford with interment following at Lakeview Cemetery.
As your expression of sympathy, donations to the Hospice Georgian Triangle 'Campbell House' would be appreciated and may be made through the Ferguson Funeral Home, 48 Boucher St. E., Meaford, ON N4L 1B9, to whom arrangements have been entrusted.
www.fergusonfuneralhomes.ca