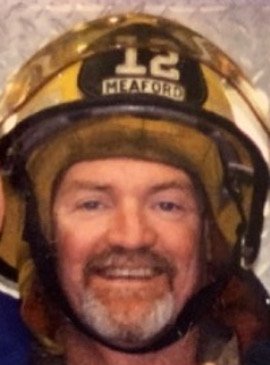 It is with great sadness in our hearts that we had to say goodbye to our big guy far too soon. He left us suddenly on Saturday, May 2, 2020, after a brief but tough battle that he said would be a marathon not a sprint. Sadly he did not complete that race but we will see him at the finish line in due time.
Rob was a champion of others; he had a generous, compassionate spirit, a kind soul, and always fought for the underdog. He loved his three children: Christine, Matt, and Ty, and his wife Julie madly, his amazing family, incredible group of friends, his work family at the LCBO, his love of volunteer work with community organizations and the fire department, and of course his love of red wine; and not always in that order.
He was a true homebody and loved being around others in his home, the countless parties, surrounded by those that he loved and who loved him. He will be greeted by his family members who have passed before him including his twin sister, older brother, his parents, and a dear friend who will meet him with great food and a few cocktails.
Our hearts are broken and a big piece of our lives will forever be missed. Rob was so very humbled by the support received by so many from his home community and beyond as well as the love that surrounded him and his family during this time. His best friend Stella and her sidekick Al will be forever waiting for him to come back home.
We are so grateful for the incredible care from our local Meaford Hospital nursing staff and doctors who cared for Rob and provided the family with such care and compassion during this time of restrictions and uncertainty. We would also like to thank our 'Quarterback', Dr. Harry O'Halloran, and his staff for their constant support when receiving treatment outside of our community. To the staff at Princess Margaret and Mount Sinai, your care for Rob and commitment to his wellbeing will always be appreciated.
Rob's life will be celebrated in the near future after the Covid-19 restrictions have lifted and it is safe for family and friends to gather to support one another and share stories and memories. Rob was such a generous human being and any donations would be graciously appreciated for the Meaford Hospital Foundation or Mount Sinai Hospital Foundation c/o Meera Popat Sarcoma Fund, and may be made through the Ferguson Funeral Home, 48 Boucher St. E., Meaford, ON, N4L 1B9, to whom arrangements have been entrusted.
www.fergusonfuneralhomes.ca