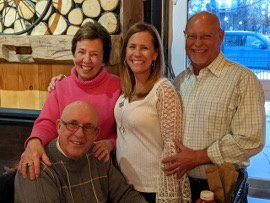 Armstrong, Thomas William, age 81, passed away April 21 in Rochester Hills, Michigan.
Anyone who knew "Armstrong", "The Count", or "Papa" knew him as a kind mild-mannered banker who loved his "Papa Pop" (aka Bud Light…or any beer) and as the one to say the wrong thing at the most wildly inappropriate time. Tom was known for his long, entertaining, and highly exaggerated stories. Which always got crazier the second and third time around.
Always the hard worker, he graduated from Oakland University with an undergraduate Finance degree and an MBA from Walsh College. Tom was an avid "putser" in the yard, an ancestry aficionado, the first to lend a neighborly hand, lover of his prized Corvette (which no one was ever allowed to touch), and always the last to leave a good party. Unless of course summoned by the popular, "let's go Armstrong!"
He lived 1,000 years in the 81 calendar years we had with him due to his unusually unlucky knack for hurting himself doing any type of project. 911 was always on stand-by when he fired up a chainsaw.
Tom was insanely proud of his family and enjoyed the company of many, many friends around the globe. His favorite place to "put a hurt on his liver" was at his cottage in Meaford, Ontario. Most notably at the kitchen table in front of his beloved fireplace.
Of all the people he made laugh, or pissed off, his most proud achievement in life was his wife Peggy Armstrong (Henry), daughter Julie Vogler (Armstrong), devoted "son-in-law" Glen McCrabb, and his cat Precious who stood by his side through all the good, bad, and ugly times, and lovingly supported him physically during their last days together.
Tom took extreme pride in his five grandchildren, Grace Vogler (19), Brendan Vogler (17), Kyle Vogler (16), Ava Vogler (15), and Anna Vogler (15), whom he affectionately referred to as the "thundering herd" or the ones that always "trashed the place".
Tom's pride also took him to the rank of Airman Second Class in the United States Air Force.
Though preceded in death by his parents, William L. Armstrong (Army) and Martha L. Gladden, brother James S. Armstrong, and sister Claire L. Honjas, he was fortunate enough as a child to travel the world with them engaging in adventures most will never experience.
Obviously, Anheuser-Busch is devastated by the loss of Tom, as are we. In fact, we are pretty certain Anheuser-Busch top executives called an emergency meeting to brace for the impact of lost sales upon Tom's untimely death.
However, due to uncertain times, a celebration of life will have to be announced at a later date. In the meantime, please feel free to celebrate and honor Tom by raising your glass, bottle, or can daily in the confines of your own home. We all know how cheap he was, so I'm sure he's thrilled he doesn't have to pay for your drinks right now.