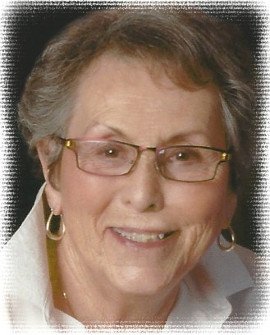 Lois Pauline "Polly" Chapman, formerly of Meaford, passed away surrounded by the love of her family at Campbell House Hospice in Collingwood on Monday, February 10, 2020. Born on February 23, 1927, she was the daughter of the late Rose (Harris) and William Hatch. She is also predeceased by her husband of 68 years, Walter Chapman (2017), and her brothers, William and Donald.
She is survived by her brother Robert Hatch (Eleanor) and was the loving mother of Betty Jane Brebner (Rod) and Jim Chapman (Deb). Beloved grandmother of Jennifer Morton (Keith), Heather Visscher (Ian), Michael Chapman, Megan Chapman (GW King), Kara Davison and Kristen Davies (John), and her great-grandchildren who held a special place in her heart, Will, Sadie, Hunter, Makala, Finley, Lou, Zöe, and Isla. She adored her grandchildren and great-grandchildren, delighting in spending time with them, watching them grow and develop.
Both family and friends were very important to Polly, enjoying family times and entertaining with her friends. Throughout her life, whether entertaining, playing bridge, and raising her family, she found time for laughter and love. Her last two years at Chartwell-Georgian Traditions in Collingwood brought her together with many new friends enjoying many special times. Her bubbly outgoing personality endeared her to anyone who met her and made her special to many of them.
Being an avid golfer she enjoyed her time with friends on the golf course, whether in Meaford or in Bonita Springs, Florida. Singing played an important part of her life. She was a member of the choral group, The Perryettes, and also sang in the Meaford United Church choir for many years, and was always ready to join in any opportunity to sing. She also enjoyed her volunteer work with the Meaford Hospital Auxiliary and helped open the gift shop at the hospital.
A Celebration of Pauline's Life will take place at the Meaford United Church, 7 Boucher Street East, Meaford, on Saturday, February 15 from 11 a.m. until 2 p.m. A family service of interment will take place in the spring at Lakeview Cemetery, Meaford.
In lieu of flowers, contributions to Campbell House Hospice, Collingwood, the Canadian Cancer Society, or the Meaford Hospital Foundation would be appreciated and may be made through the Ferguson Funeral Home, 48 Boucher St. E., Meaford, ON N4L 1B9. www.fergusonfuneralhomes.ca