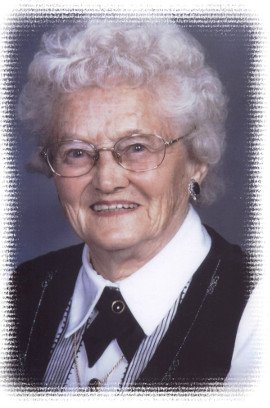 Born in St. Vincent Township on February 10, 1922, a daughter of the late Morris and Hanna (nee Patterson) Cann, Verna passed away in Meaford on Friday, January 3, 2020, at the age of 97.
Verna was predeceased by her beloved husband Murray Hodgkinson in 2007 and is remembered as the devoted mother and 'Mom' of son Don and Donna Hodgkinson of Thornbury, daughter Pat Logan of Hamilton, daughter Lynn and Francis Prentice of Grafton, daughter Jody Hodgkinson and John Gillespie of Collingwood, and son Kelly and Susan Hodgkinson of Chesley.
She will be the sorely missed grandmother and great-grandmother of Geoff and Wendy Hodgkinson and their children Jeremy and Jared, Rod and Gina Hodgkinson and their children Maria and Claire, Ian Hodgkinson and Andrea Lewin and her son Dylan, Grant and Lisa Logan and their children Nicholas and Dylan, Chris Logan and Tara Vukovic and his son Liam, Stacy and Chris Parker and daughter Grace, Lisa and Darryl Pogue and daughters Serena and Karissa, Tiffany Hodgkinson and partner Nathan Mawhinney, and Chandler Hodgkinson. She will be remembered also by John Gillespie's daughters Cecily and Rheba.
Verna is survived by her brother Elgin and his wife Marlene Cann, and was predeceased by sisters- and brothers-in-law Viola Graham (Ernie Burgoyne), Blanche Knight (Keith), Irene Emary (Keith), Mary Breadner (Leslie), Wilma Woodhouse (Arnold), Jessie Lackie (Bob), and brother Reginald Cann (Doris). Verna is also predeceased by a brother-in-law Virgil Hodgkinson and his wife Dorothy and will be recalled fondly by her several nieces and nephews and their families.
Family received friends at the Ferguson Funeral Home in Meaford on Tuesday, January 7 from 6 until 8 p.m. and funeral services were conducted at the Meaford Church of Christ on Wednesday, January 8 at 1:30 p.m. followed by a reception in the community room there.
As your expression of sympathy, donations to the Meaford Hospital Foundation or a charity of your choice would be appreciated. www.fergusonfuneralhomes.ca