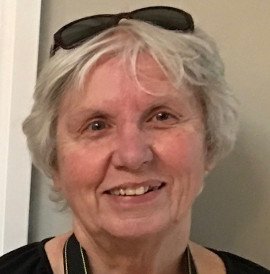 Margaret Ann (Peggy) Craig
June 25, 1942 – March 31, 2019
Peggy passed away on March 31, 2019, at the Mackenzie Health Hospital in Richmond Hill, ON, after a short and courageous struggle with cancer.
She was born in Flesherton, Ontario. As a preschooler she lived with her parents Leonard and Mabel Haines and younger brother James on the family farm near Kimberley, Ontario. Peggy graduated from Thistletown Collegiate Institute (Etobicoke, ON) where she was the female 'Athlete of the Year' in 1964. She graduated from the Royal Victoria Hospital's R.N. program (in Barrie, ON) in the spring of 1967. That led to an outstanding 44 years of dedicated work as a Registered Nurse. Peggy was highly regarded by all of the people she worked with in five different hospitals. She retired from Baycrest Geriatric Centre as the manager of Occupational Health and Safety Services.
Peggy was married in 1968 to Iain Stewart Craig in Kleinburg, Ontario. Peggy and Iain had two wonderful children, Andrea Welburn (1972) and Scott Craig (1974-2016). Scott and Peggy shared a love of animals, gardening, and cooking. Peggy was a master chef and has passed that talent on to her granddaughter, Claire. Peggy made every house she lived in a home, hosting family events with an abundance of food. Peggy will be sadly missed by her husband Iain Craig, and daughter Andrea Welburn of Richmond Hill, son-in-law Andrew Welburn, grandchildren Evan and Claire Welburn, her brother James Haines and his wife Joanne Christie of Durham, brothers-in-law Douglas Craig, Ronald (Elizabeth) Craig, her nephews Paul Haines, Peter Haines, Jonathan Craig, Aaron Platt, her nieces Emily and Maddie Craig. Peggy will be sadly missed by many close friends and family members who have fond memories of her and the photos that she took, quilts that she created, and unforgettable family holiday meals.
A Celebration of Life will be held on Sunday, May 12, 2019 from 1:00 - 4:00 p.m. (speeches at 2:00) at St. Andrew's Golf Club, 4 Pinnacle Trail, Aurora, ON L4G 3K3.