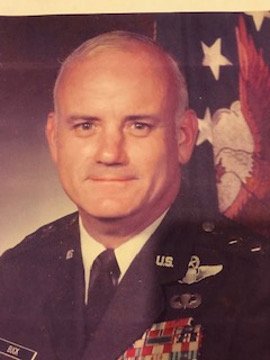 Farmington, Michigan: 87, passed away March 18, 2019. General Buck spent his youthful summers growing up in the care of Scottish grandparents on Sunnyside Beach in the municipality of Meaford. During his Air Force pilot career he once flew his F100 Supersabre over Sunnyside waving his wings to his friends and family.
Throughout his later life he spent as much time as possible at his ancestral cottage. His children and grandchildren now do the same with some calling it home. Surviving are his beloved wife of 65 years, Nancy; children, Tom (Karen), Judi Mynsberge, Michael (Judy Apostolico-Buck), Kevin (Anne), and Mary Gillman; 12 grandchildren; and 3 great-grandchildren. A service of remembrance will be held in Meaford with interment at Duxbury cemetery in July 2019.
A more detailed obituary can be found at http://www.heeney-sundquist.com/obituary/major-general-john-buck-usaf-ret.