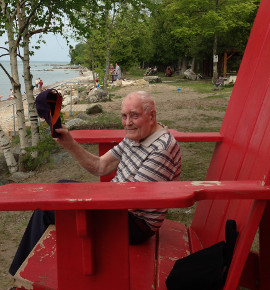 Peter H. Jarzembowski passed away peacefully at Errinrung Nursing Home on Monday, June 11, 2018, in Thornbury, Ontario.
Peter was a loving father and grandfather, who was known for his great sense of humour and affectionate ways. He leaves behind his children Peter (Silvana), Astrid (David), and Julia (Ken), and grandchildren Mathew, Lucas, Harley, Jordan, Kai, Erica, and Mia. He will be missed by all.
Peter was born on October 14, 1926, in Königsberg, Germany. After World War II, he trained as a carpenter. In 1951, he emigrated to Toronto, where he married his beloved wife Johanna, who predeceased him. They raised their children in Pickering. After retirement, enchanted by Georgian Bay, he moved to Meaford, where he pursued his love of sailing. Peter was an active member of the Bethany Church of the Nazarene.
A celebration of his life will be held at a later date.