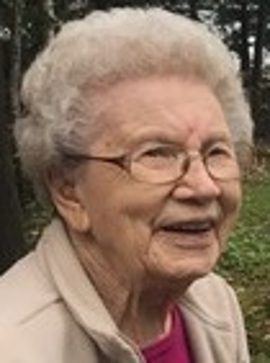 Mintz, Jean Isabelle, in her 96th year passed away peacefully on May 1, 2018 at Grand River Hospital Kitchener surrounded by her loving family.
Predeceased by her husband Douglas of Meaford. Beloved mother of David (Margaret) of Kitchener, Donna (Al) Lyon of Cochrane, AB, Shayne (Marie) of Craigleith and Blake (Jeannette) of Toronto. Proud grandmother of Darcy (Stephanie), Dana (Matt) Kerimoglu, Clayton (Wendy) Busher, Renee (Daniel) Bubola, Meghan (David) Robinson, Lauren (Stan) Liberty, Stephanie (Paul Vagueiro), Victoria and Natalie Mintz. Great-grandmother of David, Marie, Arya, Luka, Madelyn, Lily, Henry and Jacob. She is survived by her sister Marian Borland of Owen Sound.
A lifelong resident of Meaford, Jean was very active in community senior's groups: United Church, Quilting Guild and Kiwanis Charity. Loved to quilt, puzzles, dance and donate time to worthy causes. Enjoyed travel, outdoors and getting together with family and friends. The family would like to thank the staff at the Grand River Hospital and a special thank you to nurse Terri for her care and attention to making Jean comfortable in her final days.
Mother has been cremated and her ashes will be interned on her birthday in August.