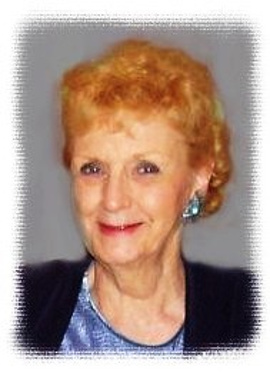 Born in St. Vincent Township on June 5, 1933, a daughter of the late Clifford and Mary (nee Young) Ford, Shirley passed away peacefully at her residence in Meaford, on Sunday May 6, 2018 at the age of 84.
Shirley was predeceased by her first husband, Robert 'Bob' Morris in 1969, after which time she assumed the role of owner, operator and caring manager of the family business in Meaford, 'Morris Memorials', where she became respected in the community and surrounding area for her many years of dedicated service to the citizens she served with great compassion and empathy.
Shirley later married William 'Bill' Cathrae and the couple enjoyed a fulfilling and active life together, sharing both work and leisure time, and retirement together. They enjoyed over 46 happy years together.
Shirley will be recalled as a much-loved mother by her children, all of Meaford, and as a cherished and loving gramma to her grandchildren: Judy and her husband Paul Schultz, and their sons Matthew and Timothy; Terri-Lee Morris and her sons Jason and Jacob; and Robert Morris and his wife Dawn, and their children Cameron and Teagan.
She was predeceased by an infant brother Richard and is remembered as a dear sister by Sharon and her husband Richard Turner of Meaford.
Shirley was a special sister-in-law to the Cathrae family: Blanche (late John), Marie (late Lloyd), Doug and his wife Orla, Bonnie (late Ted Cathrae), all of Owen Sound, and Carol (late Harvey) Parkin of Meaford.
She will be remembered also by the Morris family: Howie and her husband Ray Wheeler of Meaford, Marilyn and her husband Art Alderson of British Columbia and Pat (late Bill) Morris of Brampton.
She will be sorely missed by her several nieces and nephews and their families.
A private family service of committal and interment of Shirley's ashes will take place at Lakeview Cemetery in Meaford.
A gathering to share and to celebrate Shirley's life with the community she served will be conducted at the Meaford Curling Club, 130 Collingwood St. W., Meaford on Saturday June 16th from 1 until 4 p.m., with tributes being offered at 1 p.m., followed by a reception.
If so desired and as your expression of sympathy, donations to the Meaford First Baptist Church, Canadian Cancer Society or Meaford Hospital Foundation would be appreciated and may be made through the Ferguson Funeral Home, 48 Boucher St. E., Meaford, N4L 1B9 to whom arrangements have been entrusted. www.fergusonfuneralhomes.ca