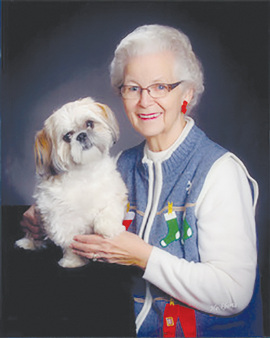 The passing of Velma Ruth Owen of Fredericton, NB, occurred on Monday, February 19, 2018, at Paradise Villa Seniors Residence. Born in Indian River, PEI, on October 15, 1938, she was the daughter of the late Erskine Hunter and late Rosie (Wall) Brown. Before retirement, Velma was an owner of various businesses, most notably the Meaford Nursing Home in Ontario and Molly's Canteen and Cottages in PEI. She was also a globe trotter, had many furry companions over the years, and was known to lend a helping hand up to those in need.
Velma is survived by her daughter, Sue Carr (Bruce); sons Preston (Sharon), Paul (Tanya), and David (Charmaine); sister Olive Bryanton; grandchildren Amanda (Dennis), Sarah (Adam), Michael (Stacey), Tiffany (Mark), Brooke, Gary, Amber, Katie, Shawn (Amy), Christopher (Jaime), Danny (Michele), and Jennifer (Kyle); 16 great-grandchildren, many nieces and nephews.
Besides her parents, Velma was predeceased by a grandson, Justin (Becky) Owen; brothers Preston (Linda) and Elwood (Marty) Hunter.
There will be no public services at the family's request. Interment will take place at a later date in Meaford, Ontario. Donations in Velma's memory may be made to the Humane Society or the Alzheimer Society. We would like to acknowledge and thank the staff and management at Paradise Villa for their compassionate and loving care. She had many friends there. We would also like to thank Dr. Saunita MacMullin for her dedication to mom's needs and always being there when needed. Personal condolences may be offered through www.yorkfh.com