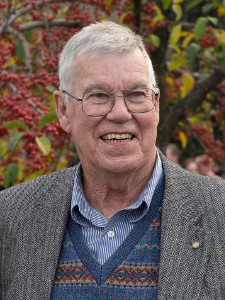 Beloved husband, father and grandfather Peter Doran passed away Sunday April 19, 2015 at Collingwood General and Marine Hospital.Born in Meaford Ontario, he graduated from Meaford High School and attended the University of Toronto before starting work as a service engineer for IBM, a career which lasted for 32 years.
Shortly before his retirement in 1988, Peter purchased Oxmead Orchards near Meaford, and built his own home there with the help of his sons.
In his retirement, Peter grew McIntosh apples, restored a Ford Model T, and solved fearsomely tough cryptic crosswords every day. He was a proud member of the Rotary Club of Meaford, and a founding member and past president of the Meaford Handi-Van.
Peter was predeceased by his sister Donelda, his son David, and his grandson Kenneth. He is survived by Mary, his wife of 58 years; sons Robert (Dianne) and John; daughter-in-law Patricia; and grandchildren Crawford (Gwen), Alexandra, Thomas, Claire, and Elizabeth.
As per his request, there will be no service. His ashes will be scattered around his walnut grove at a later date. In lieu of flowers donations may be made to the Collingwood Hospital Foundation. Message of condolences can be sent to: mdoran2012@yahoo.ca.