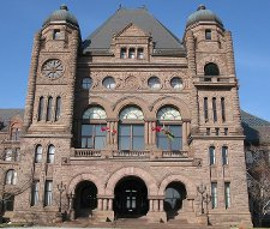 Bruce-Grey-Owen Sound MPP Bill Walker is pleased the first budget of Ontario's PC government delivered April 11 by Finance Minister Vic Fedeli "protects critical services, and contains absolutely no new tax increases, while providing $26 billion over six years in relief for individuals, families, and businesses."
"Budget 2019 focuses on protecting what matters most – our world-class health care and education systems. We need to make sure the people of Bruce-Grey-Owen Sound are protected for generations to come," said Walker. "This is also a plan that puts people first, while making Ontario open for business and open for jobs."
Walker says that the 2019 Ontario Budget is a comprehensive and sustainable plan that balances the budget in five years, stimulates job creation, and protects critical public services that people rely on every day.
"With this plan, the Province is ensuring value for money and targeting spending to frontline services, while eliminating the deficit," Walker said.
The signature initiative of the budget is the proposed Childcare Access and Relief from Expenses (CARE) tax credit. The CARE tax credit would be one of the most flexible child care initiatives ever introduced in Ontario, putting parents at the centre of the decision-making process. CARE would help low-and middle-income families with up to 75% of their eligible child care costs per year, including those for daycares, home-based care, and camps.
"Another key item in the budget is dental care for low-income seniors. At least two-thirds of low-income seniors do not have access to dental care – and many end up in our emergency rooms as a result. The government is investing $90 million starting at the end of summer 2019 to establish this new program to help Ontario's low-income seniors. Our government has also made a commitment to add 15,000 long-term care beds in five years including 91 new beds for Southbridge Care Inc. in Owen Sound."
Budget 2019, also commits the government to working with hospitals to implement approximately 60 major projects under construction or being planned across the province and says this about the proposed new hospital in Markdale: "construction of a new replacement building to include 24/7 emergency department and outpatient services."
"I'm thrilled to see the Markdale Hospital project directly mentioned in our budget. This has been a long-time coming for our community," said Walker.
While the Markdale Hospital project will move forward, the Association of Local Public Health Agencies (alPHa), which represents Ontario's Medical Officers of Health, Boards of Health members and front-line public health professionals throughout the province, is "surprised and deeply concerned" to learn of the Government's plans to restructure Ontario's public health system and reduce its funding by $200M per year.
"Investments in keeping people healthy are a cornerstone of a sustainable health care system. We have spent considerable time since the election of the new Government communicating the importance of Ontario's locally-based public health system to ending hallway medicine," said alPHa President Dr. Robert Kyle. "The reality is that this $200M savings is a 26% reduction in the already-lean annual provincial investment in local public health. This will greatly reduce our ability to deliver the front-line local public health services that keep people out of hospitals and doctors' offices."
In order to achieve this reduction, the Government is proposing to replace 35 public health units and 35 local boards of health with 10 larger regional entities with boards of health of unknown composition and size. As alPHa pointed out in its response to the previous Government's Expert Panel on Public Health Report (which proposed a similar reduction), the magnitude of such a change is significant and will cause major disruptions in every facet of the system. "The proposed one-year time frame for this change is extremely ambitious, and we hope that the government will acknowledge the need to carefully examine the complexities of what it is proposing and move forward with care and consideration," added Dr. Kyle.
Other key initiatives in Budget 2019 include a new Ontario Job Creation Investment Incentive to help businesses grow and create jobs, a "Digital First" strategy to modernize Service Ontario's top 10 transactions and other government services, and a new auto insurance plan that puts drivers first.
"The 2019 Ontario Budget is showing the world that our government is serious about fiscal sustainability, protecting what matters most and making Ontario the best place to invest and create jobs," said Fedeli. "The Budget marks a new beginning for the Province that respects tax dollars, makes life more affordable, and ensures the government works for the people, and not the other way around. This is the approach of Premier Doug Ford and his Government for the People."