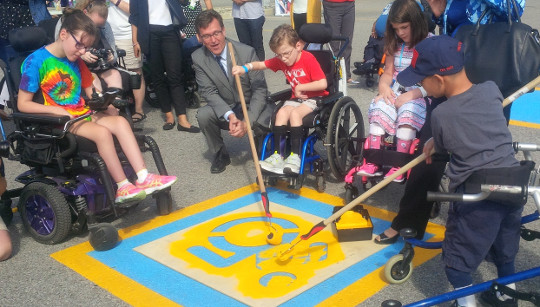 Last week, Bruce-Grey-Owen Sound MPP Bill Walker joined scores of supporters at Holland Bloorview Kids Rehabilitation Hospital in Toronto where they repainted parking spaces with the new Dynamic Symbol of Access.
MPP Walker has earlier endorsed the updated symbol, advocated by The Forward Movement in Ontario. Last May he tabled a Resolution at Queen's Park to call on the government to update the accessibility symbol in this province. Next he will approach local councils to seek their support of adopting the same across Bruce and Grey communities.
"The International Symbol of Access is one of the most familiar symbols, but it also represents perceptions from 40 years ago," MPP Walker said. "It's time to update it so it better reflects the new reality, which is that people with disabilities are in motion, and they want and need to be recognized for being engaged in decisions about their mobility."
The modernized symbol puts emphasis on a person in motion, leading forward and moving ahead with wheels spinning, explained MPP Walker.
"I believe this image better reflects the dynamic role that people with disabilities can and do play in today's society," he said.
Speaking before accessibility supporters this morning, Holland Bloorview President and CEO Julia Hanigsberg said this change will also help to open up the way for better engagement and inclusion in everyday life, adding that "symbols matter, and words matter, and that's why we're here today." Holland Bloorview is Canada's largest paediatric rehabilitation hospital and each year serves over 7,400 children and youth with disabilities and complex medical needs. Among supporters attending there today were provincial youth advocate Irwin Elman, StopGap Foundation founder Luke Anderson, AccessNow founder Maayan Ziv, and Variety Village CEO and former Toronto councillor Karen Stintz, gold medal Paralympian Paul Rosen and many others.
The change was pioneered in Ontario by Dylan Itzikowitz and Jonathan Silver, co-founders of The Forward Movement. Today, the updated symbol has the support of a number of municipalities, the MS Society of Canada, Special Olympics Ontario, Accessibility Ontario, Centre for Social Innovation, the Abilities Centre and many others.
"I'm pleased to see that this movement is growing every day, and that more people are talking about the importance of removing barriers to make Ontario more accessible and inclusive for everyone," said MPP Walker.