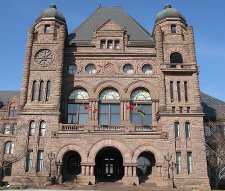 Bruce-Grey-Owen Sound MPP Bill Walker says the Liberal government has to stop silencing the critics of election reform and come on board with third-party advertising caps in Ontario.
The cap, which is being advocated by the province's elections watchdog, will remove the ability of corporate party interests to buy influence in our elections.
Chief Electoral Officer Greg Essensa has made repeated calls for stricter rules around third-party advertising after discovering that political spending by these groups tripled to $9 million - more than the 19 registered political parties combined and three times more than spent in 2007. Essensa also called the current process "completely non-transparent."
MPP Walker agrees.
"Premier Kathleen Wynne can't keep silent for too long. She has to heed advice and take action to correct this broken process," Walker says.
"Mr. Essensa is an officer of this Legislature and the Premieras all members of the House should be mindful of his advice and recommendations," he says. "The Premier has the ability to fix it and bring Ontario in-line with the rest of the country by putting limits on political spending."
Walker says he is not surprised by the Liberal government's lack of response to this issue in today's question period.
"The Premier did defer my question to her attorney general, and that minister did waffle in her response, but I know they heard me clearly when I said we needed to bring free speech back to elections and restore Ontarians' confidence in our democracy," says Walker.
Walker says in his conversation with Essensa, the elections chief made it clear that capping third-party advertising was one of his top three priorities.
"This is a non-partisan issue. It's about bringing Ontario in-line with the rest of the country and making the elections process more transparent and more open," he says. "And above all, it's about ensuring that free speech stays free in Ontario."