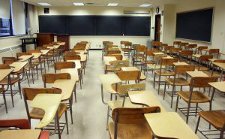 Bruce-Grey-Owen Sound MPP Bill Walker says parents and students are troubled by the provincial government's plan to speed up school closures in their communities.
"The Minister stated she would review the accommodation review committee (ARC) guidelines and bring back new guidelines in the spring," Walker explains. "It was my hope we would see an improvement to this review process, not be blindsided by the government that yet again takes away the voice of the people who will be impacted. This is simply unacceptable."
Walker says the reality is that the Ministry of Education is looking to rush the accommodation review process by removing input from municipalities, specifically the "impact to community" consideration, and shortening the public consultation period to just ten weeks from the current seven months.
"With this change, if the Liberals want to fast-track closures, then all they have to do is strip a community of its ability to fight back. The new process will do exactly that – it will strip communities of their voice and essentially shut down debate," warns Walker.
In Bruce-Grey-Owen Sound, the rushed process could result in the closure of as many as 18 schools within the Bluewater District School Board.
"Any fast-tracked school closure will be a direct result of these far-reaching changes," he says.
"But I also think the government is underestimating rural and Northern Ontario's interest on this issue. I expect municipal leaders will give this Liberal government an earful as early as this month's municipal conference in Toronto."
Walker says he wants to see this government stand by its commitment to review and fix the school funding formula. His recent letter to Education Minister Liz Sandals included a reminder of that promise, which the Liberal party made in the past three elections.
Walker adds that despite the government's spin on this issue, the ripple effect of school closures will result in a significant reduction in the number of teachers as well as teaching associates, administrative and maintenance jobs, and a negative impact on the economies and sustainability of communities.
"I don't see how shutting down community schools and bussing children for longer periods of time contributes to student achievement or to quality of life," he says. "Clearly, we need meaningful changes in the education system and a way forward that will ensure quality education services and sustainability of our communities."