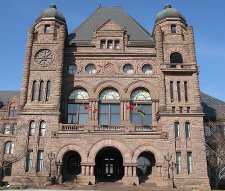 Premier Kathleen Wynne should demand Deb Matthews' resignation from Cabinet for her proven record of mismanagement and failed oversight of Ornge say Progressive Conservative MPPs Bill Walker and Jim Wilson.
"Patients have been put at risk because of your Minister's failure to do her job and protect Ontarians," Interim Ontario PC Leader Jim Wilson told the Premier. "Will you show real leadership, take responsibility for those patients' deaths and demand the Deputy Premier's resignation today?"
"The Ornge air ambulance fiasco could have been prevented if your Minister of Health took action. But we all know she did not," Associate Health Critic Bill Walker said to the Premier. "Her failure to acknowledge concerns that were brought to her attention numerous times resulted in the death of four dedicated crew members."
According to the pair of MPPs, despite mounting evidence of problems with Ornge, the current Deputy Premier did not take any action as former Health Minister until 2012, by which time patients in Ontario had died or suffered amputations because of negligence.
"Minister Matthews was not diligent in pursuing red flags pointing to serious problems at Ornge," said Wilson, citing a May 4, 2011 letter to Matthews from the Ontario Air Transport Association which detailed major issues and deficiencies at the air ambulance service. He also noted that million dollar law suits for delay in transport and poor patient care filed from 2007 to 2011 should have drawn her attention to the existing problems.
Walker also pointed out that the all-Party legislative committee investigating Ornge unanimously agreed that the problems "could be attributed primarily to the absence of due diligence and oversight on the part of the Ministry of Health and Long-Term Care."
"This isn't just dollars and cents we are talking about today," said Walker, calling on the Premier to be accountable. "It is mistakes your Minister made that contributed to the deaths of four Ontarians."