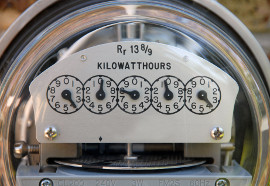 Bruce-Grey-Owen Sound MPP Bill Walker says local ratepayers are not buying the Liberal government's spin on delivering lower electricity prices and the reliability of the province's electricity grid. MPP Walker questioned why anyone should trust Premier Kathleen Wynne to fix the hydro mess her party created.
"We had 60 local households disconnected, hundreds of constituents falling behind on their energy bills, a local constituent owing $20,000 to Hydro One and getting deeper into debt, a local grocer paying a sky-high $120,000 electricity bill and multiple power outages across Grey-Bruce," says Walker.
Last year alone, one in every 12 households in Ontario was facing the threat of disconnection for being in arrears, owing more than $172 million, while Ontario suffered through 135 power outages of some kind. That's as many outages as the provinces of B.C., Manitoba, Nova Scotia, and Alberta combined, states Walker. Meanwhile, Ontario's electricity rates remain among the highest in North America.
"This government broke its promise to protect consumers, it broke its promise to provide lower rates, and it broke its promise of a reliable supply of new electricity," he says. "Evidently, given all of these broken promises, given all the ongoing bungling, the people can't count on the Premier and her government to do anything to make hydro bills more affordable, and power more reliable."
MPP Walker today supported his party's Opposition Day Motion that called on the government to stop any further sales of Hydro One shares. The PC motion was written in response to the concerns and wishes heard from constituents.
"Our motion aims to ‎bring Ontarians' concerns into focus for the Liberals," MPP Walker says. "If the Ontario Liberals can accept it was wrong to sign the costly contracts for renewable energy like wind and solar, will it finally accept it is wrong on the fire sale of Hydro One?"