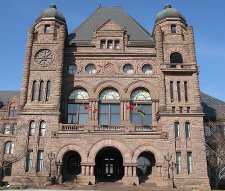 The province has quietly moved to cut victim services serving constituents in Bruce, Grey and Perth counties by as much as 20 per cent over the next three years, says local MPP Bill Walker, who calls the cuts "radical and shameful" and wants the provincial government to rethink its decision.
Victim Services Bruce-Grey-Perth is one of 19 victim services agencies in Ontario whose funding is being reduced by the Ministry of the Attorney General. As a result of the funding cuts, the agency may be facing staff reductions to their small team of seven who currently serve victims of domestic abuse and other crimes across 23 municipalities.
"I think it's outrageous that this government is putting some of the most vulnerable people in our community at peril. I think they should be ashamed of themselves for continuing on with inappropriate priorities," Walker says. "This government's problem has never been one of not having enough money; it has always been misdirected priorities."
Over the past year, the local Victim Crisis Assistance and Referral Service (VCARS) was called out to 862 incidents, which led to their staff responding to 2,500 victims across a large geographic territory. Their budget for that year was $514,328. By 2017, the province will cut it to $439,637, a reduction of about $75,000.
"There is no doubt in anyone's mind that a cut as drastic as this one will put an incredible strain on their already- stretched staff and people in Bruce, Grey and Perth will feel the impact of this loss of funding."