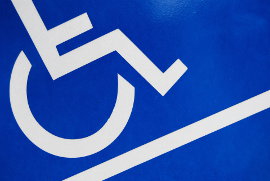 Ontario is introducing new accessible parking permits designed to increase security and prevent misuse.
"Accessible parking permits are of utmost importance for persons with disabilities. A stronger, more secure permit will help root out misuse and ensure spaces are more available to those who need them," explained David Orazietti, Minister of Government and Consumer Services.
Beginning this week, ServiceOntario will be issuing accessible parking permits with enhanced security features that make them easier to verify and more difficult to duplicate. These changes apply to new permits only.
The new changes include:
Machine-readable bar codes, raised markings and serial numbers to help confirm that a permit is authentic

Permits will no longer be laminated because it prevents the ability to verify the security features (a permit will be invalid if a customer laminates their new permit)

A person applying on someone else's behalf will need to show a letter of authorization or Power of Attorney document

Applicants must show identification that includes their legal name, date of birth, and signature, such as a driver's licence or passport
These improvements will help reduce the misuse of permits, ensuring accessible parking spaces are available to those who need them.
Almost 700,000 permits are currently in circulation. More than 194,000 permits were issued between April 2014 to March 2015. Current permits remain valid and do not have to be re-issued. The medical criteria to receive a permit remain unchanged.
Accessible parking permits are issued to a person, not a vehicle. They can only be used when the person to whom it was issued is using the vehicle. Accessible parking rules are enforced by police and other law enforcement agencies.
"Ontario's new ID requirements are a good balance between verifying a person's need for accessible parking and confirming their identity, while ensuring ease of access to an important service. This is a good improvement that will help persons with a disability," said Andria Spindel, president and CEO, March of Dimes Canada.