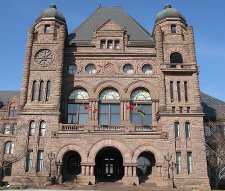 The new special education funding formula is not meeting the requirements of special needs students, says Bruce-Grey-Owen Sound MPP Bill Walker.
Between 2001 and 2014, the student-teacher ratios in special education have jumped from 22 students per teacher to 37 in Southwestern Ontario. The ratio may even be higher today as hundreds of educational assistants have since been let go across school boards in Ontario.
"That's a huge cut in special education teaching staff," MPP Walker said in today's Question Period at Queen's Park.   
Despite increasing special education funding by $1.7 billion over 10 years, the teacher-student ratio is worse today than it was in 2003. According to a report by People For Education, the ratios are even more precarious in Eastern Ontario, with only one teacher for every 52 special needs students.
MPP Walker challenged Education Minister Liz Sandals on her continued defence of the teacher union payouts, which saw her squander $3.7 million on labour talks instead of providing this money to special education students.
"The Education Minister can try to spin and cover up this scandal all she wants, but she must admit that despite repeatedly saying she would not cut, she would not fire, the reality is special education staff are losing jobs and our most vulnerable students are missing out," said MPP Walker.
He called on the minister to treat special education students with fairness and equity.
"We want the money to go to students with special needs," he said. "Match the platitudes (you) just gave (yourself) with real action and commit to putting students first by reinstating the fired special education teachers," said MPP Walker.