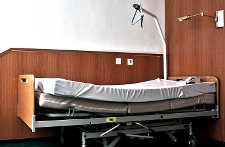 Bruce-Grey-Owen Sound MPP, Bill Walker, says that the Liberal government's failure to enact minimum standards of care in long-term care homes is putting the "lives of frail senior citizens at risk".
Walker says that 10 years have passed since an inquest into two long-term care deaths in Ontario made the specific recommendation to the government to bring in standards of care, namely minimum hours of hands-on direct patient care for the more than 70,000 seniors housed in these facilities.
"But this government has done nothing to-date," Walker said this week during question period. "As a result, neglect and death continue to happen. Most recently, it happened to Fatemeh Hajimoradi, and it happened to Dorothy Benson, who died from bed sore complications."
Walker says he is disappointed the Associate Minister for Long-Term Care, Dipika Damerla, failed to commit today to enforcing minimum hands-on direct patient care for Ontario's frail seniors at a time when they are entering homes with more complex care needs. As many as 93 per cent of long-term care residents have two or more chronic illnesses and more than 62 per cent suffer from dementia, he adds.
"The Provincial Auditor tells us the two ministers responsible for health care in Ontario are failing miserably when it comes to living up to their responsibility to protect Ontario's senior citizens," Walker said. "The facts are they have not brought in standards of care in home care, and they have no standards of care in our nursing homes."
Walker said the Liberal government has had 12 years to take action and assure Ontarians that their loved ones are receiving the care they need in long-term care facilities.
"Enough of the self-serving platitudes," he said. "Minister needs to stand up and admit that when it comes to living up to her responsibilities to protect Ontario's frail senior citizens, she has been nothing short of a very, very bad failure."