Details

Published: Tuesday, 10 June 2014 10:48
Written by By Stephen Vance, Staff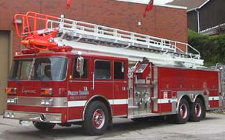 Meaford's Fire Department will finally be able to replace its 40 year old ladder truck after council gave initial approval to a report submitted by Meaford Fire Chief Mike Molloy at their June 9 meeting.
Meaford's current ladder truck is a 1975 model that was purchased from the Orangeville Fire Department in 2004. The truck recently failed tests relating to use of the ladder and the estimated cost to repair is $4,500, however Chief Molloy told council that at 40 years old, continued and costly repairs to the truck would be unwise.