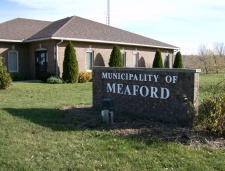 Meaford Councillor Lynda Stephens gave notice to her fellow council members that she intends to bring forward a motion at a future meeting which will seek the inclusion of a question on the upcoming municipal election ballot to change the name of Meaford.
"This municipality, when it first came into existence, was called Georgian Highlands. I've heard for years and years now how some people think it's divisive (using the name Meaford) because it's the town name and people don't feel a part of it," Stephens told council at the February 18 meeting.
Meaford has been down this road before.
At the time of the amalgamation of the former Town of Meaford with the former townships of Sydenham and St. Vincent, a transition team voted in September of 2000 to name the new municipality Georgian Highlands.
Several names had been considered at the time including Georgian Shores, Cape Rich, and Queen's Bush.
The new name for the newly formed municipality did not last long. Just five months later, in February of 2001 council voted 4-3 in favour of naming the new municipality Meaford. At the time, reasons for the reversal included confusion with nearby municipalities like Georgian Bluffs and Grey Highlands.
Stephens told council that her hope is that by having a question on the ballot in the October municipal election, the issue could be put to rest.
"I thought that if we ask the question on the ballot, that it would put an end to it one way or another," suggested Stephens.
There was no discussion of the pending motion around the council table, as it will be on the agenda for the next regular meeting of council on March 24.