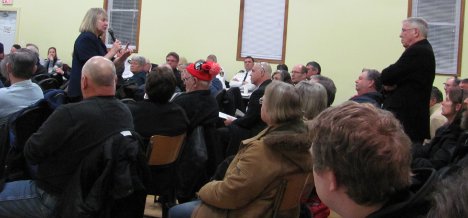 A public meeting held at Woodford Hall on February 13 to discuss the future of policing in Meaford drew a large crowd who arrived with a clear message for Meaford councillors – stay with the OPP.
The meeting was held in order to seek input from residents after a proposal from the Owen Sound Police Service to assume policing duties in Meaford was presented to council in January.
Before the meeting began, a letter from Owen Sound Police Services Board Chair, Garth Pierce was distributed to the public an media. In that letter Pierce expressed frustration with some of the questions and suggestions made at the February 10 meeting of council when the staff report on policing was first submitted to council.
"While I was disheartened by the comparison of the Owen Sound Police Service to "Barney Fife", I feel that this will address the professional abilities of the Owen Sound Police Service," wrote Pierce.
The eight page document outlined the professional abilities of Owen Sound police officers and their police service.
Meaford's CAO Denyse Morrissey, and Treasurer Darcy Chapman told those in attendance that after an exhaustive review of Meaford's policing needs, and an analysis of the proposal submitted by Owen Sound, hundreds of thousands, if not millions of dollars could be saved in the five years of the proposed Owen Sound policing contract.
Savings or not, even in rural Meaford, where budget slashing and tax reductions are never far away from any conversation, the overwhelming message to councillors was that residents are happy with their OPP service, even if it costs more than what is included in the Owen Sound proposal.
After the initial presentation from Morrissey and Chapman, resident after resident rose to express concerns about the accuracy of the Owen Sound proposal, and to indicate their preference to stay on with the OPP.
Of the dozens of residents who rose to speak during the two hours of public questions and comments, only one resident suggested that the cost savings claimed in the staff report warranted taking a chance on a switch to the Owen Sound Police Service.
In addition to council members and residents, the meeting was attended by Grey County OPP Detachment Commander, Inspector Mike Guilfoyle along with other OPP representatives, and Owen Sound Police Chief Bill Sornberger along with representatives from his police service and Owen Sound police board members.
Residents posed questions to both police services as well as to council and staff during the meeting.
Council meets next on Tuesday February 18, though no decision is expected at that time, as Meaford Mayor Francis Richardson told those at the meeting that council would not be rushed to make a decision, and he indicated that a second public meeting is likely to be held in the urban area of the municipality before council makes any decision.