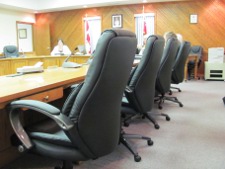 Citing a desire to improve council's communications with Meaford residents, Deputy Mayor Harley Greenfield has suggested the creation of a 'Citizen's Charter'.
"Why I've brought this forward," Greenfield told his fellow councillors at their January 27 meeting, "is all in the name of communication, openness, and transparency. I think there is confusion among a lot of our residents as to what exactly the Municipality of Meaford stands for, what it does, what it offers."
Greenfield's request for council to consider the creation of such a charter was puzzling given that in March of 2011 two major municipal documents were completed and made public on the municipal website.
The first of those documents was a 'Service Delivery Standards Manual', which was designed to eliminate some of the confusion with regard to the services provided by the municipality, and the level to which they are delivered.
The 48-page manual informed residents and staff alike of the process and timeline for the delivery of municipal services.
If you were looking for a building permit for example, the manual explains the process from the moment an application is received through the various approvals required that lead ultimately to the issuance of a permit after a 10-to-30 day process.
The second document made public in March of 2011 was a 'Corporate Communications Strategy', which explained how the municipality would improve their internal and external communications. The strategy outlined five core components of communication: Internal Communications, External Communications, Social Media, Media Relations, and Advertising.
The two documents were created in response to recommendations made by the Operational Review Task Force which conducted an extensive review of municipal operations in the summer of 2009 after which some 128 recommendations were made to the CAO and council.
In spite of the existence of those documents, council spent more than half an hour of the two and a half hour meeting discussing the potential 'Citizen's Charter', and in the end council voted 4-3 in favour of establishing a committee composed of council members and residents who will work toward establishing a Citizen's Charter which would then be signed by "Council, Senior Staff, and a number of citizens representative of our entire populace."