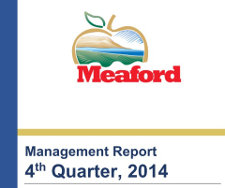 Meaford's senior management had plenty of good news for council on Monday, March 2, in the form of their final quarterly report for the 2014 year.
The 39-page report outlines the activities, successes, and challenges of all municipal departments, and while the major announcement in the report might have been the anticipated $346,000 surplus from 2014, there were several highlights worthy of note.
Nearly double the typical amount of snow fell on Meaford roads in November and December 2014. In those two months there were 40 snow occurrences resulting in 228 centimetres of accumulation. Those numbers were similar to the previous year, but far above just a few years ago when in November and December of 2012 just 70 centimetres of snow fell on the municipality.

The water tower rehabilitation was hindered by an above average amount of wet weather days, causing the project to finish 35 days behind schedule. The project was scheduled for substantial completion by mid-January, with minor aesthetic repairs being scheduled for May 2015.

766 dog licenses were issued in 2014, which is an increase from the 742 issued in 2013.

The newly launched Meaford cats program has been successful and is estimated to have prevented 120 kittens from being born.

Fire Services held an open house as part of public education and awareness, with an estimated 450 people attending.

Meaford's Bylaw officer responded to a total of 119 occurrences in the fourth quarter of 2014, 52 of which were parking related and 38 for animal control.

Meaford Hall saw an estimated 65,000 visitors in 2014 and more than 100 events hosted in the Opera House.

Approximately 9,114 visitors used the Visitor Information Centre from April to December 2014 after the municipality took over the service from the Chamber of Commerce.

A review of downtown businesses was conducted during the month of May in 2014, from Berry Street to the north side of Collingwood Street, including side streets, and revealed a total of 80 business locations with 15 vacancies or 18.75%.

Meaford will host the annual Grey Bruce Tourism Conference at Meaford Hall on October 15, 2015. This one-day tourism conference should attract about 200 individuals from the Grey Bruce Simcoe region involved in the tourism industry. The annual conference will feature speakers, an opportunity to showcase local businesses, local foods, and our community.

A special screening of the movie One Magic Christmas, which was filmed in Meaford, is being organized for December 2015 to celebrate the 30th anniversary of this Disney movie. We have partnered with both the Westin Trillium House and Scandinave Spa in order to attract key individuals involved in the film.

110 tax bills related to supplemental and omitted assessment growth due to prior years' development and construction were processed for more than $130,000 in tax revenue.

More than 150 write-offs were processed, totalling over $264,000 in lost tax revenue relating to RfR's and Payment in Lieu (PIL) assessment changes.

Staff continue to work with Public Works Canada to reach agreement on payment schedules for payment in lieu of taxes related to the Land Force Central Area Training Centre (LFCATC) for 2013 to 2016 fiscal tax years.

Tax sale procedures were completed for outstanding properties (4) with arrears greater than 3 years.