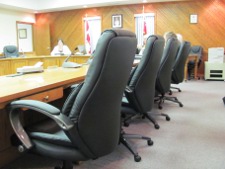 Meaford's council approved the first budget of their four-year term on Monday, March 2, and while the rate increase on the municipal portion of property tax bills will be 1.32 percent, once the county and school board are included the overall blended-rate increase for Meaford ratepayers will be just 0.08 percent.
For the average Meaford home, the overall property tax increase will amount to roughly $12.75 for the year according to Treasurer Darcy Chapman.
"I want to commend staff for the work that's been done," said Mayor Barb Clumpus. "Not only for absorbing $320,000 (in reduced revenue), plus reducing the operating cost by about $20,000. It's a remarkable budget, and certainly I'm very, very pleased to support it."
The mayor's comments were echoed by the Deputy Mayor, Harley Greenfield.
"I have been in this position a number of times before, and I cannot say how thankful I am, firstly to staff, secondly to the council, and of course our residents. It is immensely satisfying for me to see a budget coming in at slightly over one percent (increase)," offered Greenfield. "This has been the very best in many, many years."
The low rate-increase budget even softened one member of council who had previously supported zero-increase budgets.
"I'm a person that wanted to come in at zero," said newly elected councillor Steven Bartley. "At our very first council meeting, Councillor Poetker said zero is harmful. I was a little upset with Mr. Poetker at the time. I just spent four days with 1,485 politicians, and there was not one of them that condoned zero-increase, it's dangerous. I almost have to apologize to Mr. Poetker," added Bartley with a laugh.
The budget features increased capital spending on roads and bridges in the municipality in 2015, and Treasurer Chapman noted during the public budget meetings that none of the more than $4 million in capital projects will require the municipality to take on any additional debt. Meaford's long-term debt has been in decline since 2011 when it was more than $10 million. The current debt load of roughly $9 million is expected to be down to approximately $7 million by the end of 2019.
The budget for 2015 also includes significant increases in water and waste-water rates as part of a multi-year plan approved in 2011 to ensure Meaford is in compliance with ever more stringent provincial water legislation, and to ensure that the system is fully supported by the users of the water system as required by the province. General taxation funds are not used for Meaford's water and waste-water service, only those who use municipal water pay for the service.
The cost of bag tags for household waste disposal will also increase in 2015 from $2 per tag to $2.50.