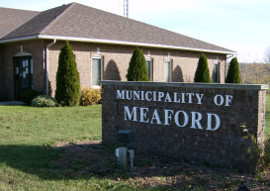 Mayor Barb Clumpus has declared a State of Emergency in the Municipality of Meaford in response to the COVID-19 pandemic.
The decision to declare an emergency was made after lengthy discussion with the Municipality's Emergency Control Group members, who came to a unanimous decision.
"The health and safety of our community is our top priority," said Mayor Barb Clumpus. "This situation is serious and unprecedented, and it is having significant impacts on our residents and businesses. We are committed to taking proactive measures to limit the spread of the virus and its impact on our community's wellbeing."
Declaring an emergency under the Emergency Management and Civil Protection Act allows the Municipality to put in place additional measures to protect the community, and facilitate access to supplies and services.
The Municipality has closed all public facilities, and cancelled public meetings and events to contain the spread.
Essential services including water/wastewater, fire services, roads services, and waste management are continuing to operate. "I would like to thank our staff who are working hard to keep our essential services going," said CAO Rob Armstrong. "The municipality is implementing measures to ensure the health and safety of our staff as they continue to serve the community."
"Our community is resilient, and we take care of each other," said Mayor Clumpus. "We've seen amazing acts of kindness between friends and neighbours, and incredible dedication from the healthcare workers and the essential service providers who are making sure we have what we need. I would like to thank all of those who are continuing to do their jobs, and who have stepped forward to help during this difficult time."
For up-to-date information on the impacts of COVID-19 in our community, visit www.meaford.ca/COVID19.