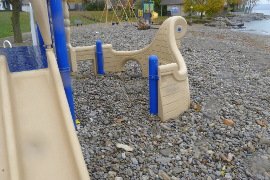 After months of being battered by high winds mixed with high water levels resulting in significant amounts of debris rendering playground equipment unsafe, at their March 9 meeting Meaford's council approved the rehabilitation of Fred Raper Park and David Johnston Park. And though the recommendation from staff was to remove any playground equipment and other features in order to re-naturalize the areas, council opted to ensure that playground equipment remains.
"Fred Raper Park and David Johnston Park are two high profile parks in urban Meaford. These two parks are located directly on the shoreline of Georgian Bay within the urban core. Both of the parks are accessible by any means of transportation including driving, biking, or waking. Aside from Memorial Park, these two areas provide the largest waterfront access points in urban Meaford for residents and visitors to enjoy during the summer months," informed a staff report to council. "Both locations have seen significant updates over the past number of years. Some of these improvements include new and expanded playground equipment, picnic table and bench replacement, washroom renovations, implementation of a Mobi-mat system for access to Georgian Bay and OADA compliance updates. These updates have totalled more than $125,000 in the past five years."
Both parks have seen extensive damage in recent months thanks to a combination of high water levels in Georgian Bay combined with strong north winds that have deposited up to two feet of sand, stone, and other debris. As a result, Fred Raper Park has been fenced off and closed to the public over the winter months due to safety concerns.
"The high water levels have also caused major damage to infrastructure in the parks that includes stone retaining walls, storm water outlets, as well as picnic table pads. Parks and Facilities staff have temporarily closed a portion of both Fred Raper Park and David Johnston Park and installed temporary fencing to ensure public safety and to mitigate any liability. Staff have also removed the chains and seats from the swing set at Fred Raper Park. Due to the damage sustained, these portions of the parks are recommended to remain closed until remediation has been completed," staff told council in their report.
Council was told that there are 30 to 40 loads of debris to be removed from Fred Raper Park alone.
Staff presented council with four options for addressing the condition of the two parks. The first option was to close the parks for the coming season at an estimated cost of $1,000. The second option would have re-established both parks with minor modifications at a cost of $25,000.
The third option, and the one recommended by council was to naturalize both parks which staff estimated would cost $45,000 – $60,000. With this option playground equipment would have been removed from Fred Raper Park and relocated to other parks in the municipality.
The fourth option, and the option ultimately supported by council, was to re-establish both parks and their service levels to what they were last year with an addition of a retaining wall at an estimated cost of $50,000 – $80,000.
According to the report to council, to bring the parks back to last year's condition will require the following work:
Removal of all washed in material;

Re-establish the current grounding surfacing requirements for playground equipment;

Repairs to hydro servicing;

Repairs to all infrastructure necessary including retaining walls and flower beds;

Reinstate volleyball courts surfacing with necessary post repairs;

Contract third party consultant to provide a full playground inspection report;

Construct a new retaining wall for greater protection of high water levels.
Members of council overwhelmingly supported the fourth option.
Councillor Steve Bartley was the first to suggest that, in spite of the cost and the risk that high winds this coming summer could undo any work done, the parks should be returned to their previous state.
"This municipality is on Georgian Bay, and that's the biggest thing that this municipality has going for it versus any of the inland municipalities that don't have Georgian Bay," Bartley told council. "That's the biggest thing we've got going for us, and I suggest we take (option) number four and put it back to the way it was. I know we could lose it in another month, but we've spent $50,000 on a lot worse things in this municipality than the harbour front."
Bartley's fellow members of council echoed his suggestion, expressing a desire to ensure that the parks are available for residents and visitors for the coming season.