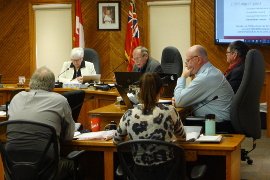 At their February 10, meeting, Meaford's council approved the 2020 municipal tax supported and user pay budgets.
As a result, ratepayers will see a blended rate increase of 2.2 percent on their property tax bills this year, and users of Meaford's water service will see their rates increase by 6.5 percent for water and 5.5 percent for sewer.
Council approved a 4.12 percent increase for the municipal portion of the tax bill, and when blended with a five percent decrease in education tax and a 1.26 percent increase from the county, Meaford ratepayers will see a blended rate increase of 2.2 percent in 2020.
"What this means for our average assessed house of $275,000, is about $77 more per year in taxes," Treasurer Darcy Chapman told council.
Members of council were generally pleased with the final budget documents, though Councillor Steve Bartley sought to bring an end to a persistent view that Meaford's property taxes are higher than most.
"I hear all the time, I hear it time and time again that Meaford's taxes are the most expensive taxes in the province. I hear it, and it's not true. There's a BMA report (BMA Management Consulting Inc. annually completes a municipal comparative study on behalf of participating Ontario municipalities), it's on the website, anyone can go into it, it's 563 pages, and for a single family dwelling in Ontario, Meaford is on the low end of all of them," Bartley told council. "If you look at just Grey and Bruce counties, the ones that do submit to the BMA report, there's four with higher taxes on a single family dwelling, and four lower, and they are all in the low range for Ontario. It's black and white if anybody wants to read it."
Bartley also noted that Meaford's rate increase of 4.12 percent for 2020 is also comparable to neighbouring municipalities.
"In Grey and Bruce counties some (municipalities) are starting at seven percent and blending at four, some are starting at 6.1 and blending at close to four. There's a couple that are blending at zero. We're actually right in the middle for this year's tax rates again," Bartley told council.
Bartley reminded council that in recent years Meaford's mill rate has decreased.
"From 2017 our mill rate has dropped 2.07 percent. Georgian Bluffs went up 1.2 percent, Grey Highlands went up 1.02 percent, and Owen Sound went up 2.4. So their mill rates all went up, and ours dropped, so we're heading in the right direction," said Bartley.
While he was pleased with Meaford's direction, Bartley did express a concern that perhaps Meaford is being too aggressive with its capital projects.
"We are spending twice as much on capital than any other municipality in Grey County. That could be a good thing, it could be a bad thing. To me it raises a red flag, and maybe, just maybe, we are being a little too aggressive," Bartley told council.
Councillor Harley Greenfield noted that while it might appear that Meaford is taking a more aggressive approach to capital infrastructure projects than neighbouring municipalities, he reminded council that, in the past, for a number of years Meaford's council approved budgets with no rate increases which resulted in very little in the way of capital projects.
"I can't help but think back years ago, when I think for four years in a row our council passed budgets with zero percent increase, and one year, at the end of the year we came in with a deficit of over $800,000. That was about eight percent on your tax bill to make that up. The next year it was $1.1 million. We got into a big mess and it took us a long time to recover from that," Greenfield told council. "That's one of the reasons that we've been trying to play catch-up to a degree with the capital projects because for a few years there we did very very little as far as road work or other capital projects. So you just can't judge a budget year to year, you have to go back, and you have to go forward and juggle."
Councillor Ross Kentner expressed concern that Meaford's water rate increases in 2020 are too steep.
Treasurer Darcy Chapman told council that with the increases the average Meaford water customer would see their water bills increase by roughly $98 in 2020.
"I won't be voting for it. If you look at the inflation rate of about 2.2 percent, we're really exceeding inflation by not just double but approaching triple, which I think is just a little rich for our populous," Kentner told council.
Chapman suggested that Meaford's water rates are comparable to other municipalities, and he stressed the reality that smaller municipal water systems have to meet the same legislative requirements as larger systems, which results in smaller communities having to pay more for water services.
"Part of the problem is we don't have the same density (as larger municipalities), and that density affords greater revenue at a lower cost to provide the service. Until we get that greater density to share the cost, these rates will continue to go up," Chapman advised council. "The reality of the situation is probably that for the last 40 years people were not paying what would really be their fair share of the water service because they weren't paying enough to build up reserves so that we had the money to replace that (water infrastructure) now, so we're playing catch-up."