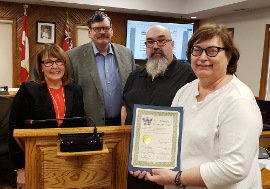 Earlier this month, Meaford's council gave final approval to a new business recognition program developed in order to allow council to "recognize the substantial contributions local businesses make to the Municipality of Meaford."
The new program will recognize Meaford businesses and organizations reaching milestone years of service in the community. At the start of Monday's council meeting, council presented its first certificate to The Meaford Independent in recognition of ten years since its launch in November of 2009.
"We have a new recognition award that we are presenting to businesses and organizations on the anniversary of their years in business," Deputy Mayor Shirley Keaveney said prior to presenting the certificate. "So, because The Meaford Independent is now ten years in business this year, we wanted to show our appreciation to you with the very first business recognition certificate."
The certificate presented was signed by all seven members of council.
"I present this to you Stephen, and Susanne, and to say how much council appreciates all of your efforts," Keaveney offered.
The Meaford Independent launched in November of 2009, first as an online-only newspaper. After many requests in the early years, a weekly print edition was launched in May of 2013.
Photo: L to R, Deputy Mayor Shirley Keaveney, Councillor Tony Bell, Meaford Independent Editor and founder Stephen Vance, Meaford Independent Publisher Susanne Wussow.