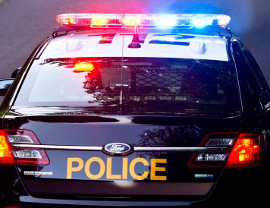 Inspector Martin Murray, Detachment Commander for Grey Bruce OPP, visited Meaford's council on Monday, December 2.
Inspector Murray told council that he has been pleased with the new Community Policing Advisory Committee that was formed in April of this year.
"I want to commend Councillor Bell and the Community Policing Advisory Committee, I think it is an engaged committee, I think we are talking about the right things, and I see good things moving forward with that committee," Inspector Murray told council.
The committee consists of four citizen members along with one council representative. The committee meets four times a year, and their role is to advise the Meaford OPP detachment and Meaford council on policing issues.
Last month Councillor Tony Bell told The Independent that while the new committee wants to hear from residents about policing issues, thus far they have only heard from two residents. Bell encourages anyone with concerns or ideas about policing in the municipality to contact the committee's email address, policing@meaford.ca.
In recent months some residents expressed concern that Meaford, in spite of spending roughly $2 million per year on policing, is not being adequately policed, and that Meaford's OPP detachment is no longer staffed. However, Inspector Murray suggested otherwise. He told council that even if Meaford were to no longer have a detachment in the municipality, the level of service from the OPP would not change. Inspector Murray said that the Meaford OPP detachment has anywhere from one to four officers starting and finishing their shifts at the Meaford detachment, depending on the shift and the determined needs.