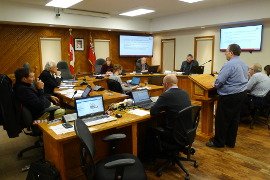 Meaford councillors are preparing for two full days of deliberations for the 2020 municipal budgets.
After receiving a draft budget from staff, and hearing from members of the public at an engagement session held at Woodford Hall on November 13, councillors will work through the draft budget during full-day sessions to be held on Monday, November 25 and Tuesday, November 26.
Councillors will have their work cut out for them. The budget framework approved by council directed staff to prepare a draft budget that would include an overall tax levy increase not to exceed 4.56 percent, however the draft budget staff presented to council requires a 7.55 percent rate increase.
Meaford Treasurer Darcy Chapman told council that staff has worked to find any potential savings within the budget, however if council wants a lower rate increase the only option is for council to cut services.
The 7.55 percent rate increase proposed in the draft budget would cost the average Meaford household and additional $10 per month in 2020.
During their two-day budget deliberations, members of council will hear from all department managers as they work to find ways to trim the budget in order to bring the required rate increase in line with their initial desire for a maximum increase of 4.56 percent.
The November 25 and 26 budget meetings will run from 9 a.m. until 4 p.m. each day, and the meetings are open to the public.
A statutory public meeting will then be held on December 16, with the final approval for the 2020 budget expected at council's January 13, 2020 meeting.