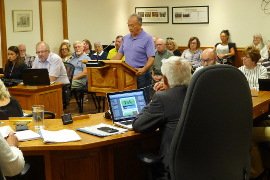 A local group which was formed in response to the municipality's initiative to develop a master plan for Memorial Park made a presentation to council at their September 23 meeting, outlining the findings of an extensive survey conducted by Advocates For Memorial Park (AMP).
Meaford resident Dan White represented AMP for the presentation to council, and said that they had 632 responses to their survey. White told council that 75 percent of the survey respondents are Meaford residents, and 76 percent of those who responded to the survey indicated that they have been visiting Memorial Park for more than ten years.
The survey conducted by AMP covered a range of issues within the park, and White told council that 50.5 percent of respondents indicated that they would like to see increased housekeeping in the park, and that 38.3 percent wanted to see increased maintenance of park grounds.
With regard to the suggestion of adding cabins to Memorial Park, White said that 62 percent of the survey respondents opposed the idea, with just 13 percent in favour. The survey also found that 64 percent of respondents would prefer that the park's configuration remain as it is currently, with just three percent of respondents supporting an increase to the number of campsites in the park. Fifty-one percent of respondents said that they would like more beach access for the general public.
"We found that many respondents were opposed to a 25 year plan – 69 percent favour a 10 year plan instead," White told council. "It's worth noting that a 25 year plan is not mandated by the provincial government, and AMP's research found that communities across our region have no more than 10 year park plans."
White also told council that 83 percent of the survey respondents support the creation of a Public Advisory Committee (PAC) for Memorial Park.
Councillors were pleased with the work done by AMP, which has shared the full survey data with the municipality so that it can be considered in the development of a draft master plan by the consultants and municipal staff. The draft master plan will be presented to council in the months to come, likely once the 2020 budget has been finalized, which will free up council and staff time.
"I certainly appreciate the passion with which you and your committee have taken this on," Mayor Barb Clumpus told White after his presentation. "It's great to see. We all love Memorial Park, it's certainly something that we all enjoy and visit frequently."