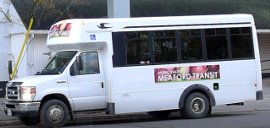 Meaford's Conventional Transit bus will no longer be operating as of June 30, when the pilot project comes to an end. The specialized transit service for those with mobility limitations will continue.
At their meeting on June 10, Meaford Council reviewed a report on transit services in Meaford that recommended the closure of the downtown transit route. It outlined the low ridership numbers of the bus, which has been operating as a pilot project since October 2016. The route map, schedule, and fares had all been adjusted over the years to encourage ridership, with the peak average riders reached in recent months of just over one rider per hour. The cost to operate the program in 2018 was $58,500.
"We would like to thank those who did make good use of the transit bus, as well as the dedicated operators who provided great customer service over the past few years," said Darcy Chapman, Treasurer/Director of Financial Services and Infrastructure Management.
The resolution passed by Council to discontinue the service also included a direction to staff to notify Grey County of the Meaford's willingness to partner with them in the development of a regional transit service study.
"The need for transit spreads beyond Meaford's borders, it really is a regional issue," said Mayor Barb Clumpus. "I look forward to further discussions at the County Council table on how we can connect our communities and help everyone get where they need to go."
While the pilot project has ended, Councillor Tony Bell introduced a motion at Council's June 24 meeting seeking a report from staff regarding alternatives to the conventional transit, including a potential taxi token program. Bell's motion received unanimous approval. Staff will prepare a report to present to council at a future meeting.
The municipality will continue to operate Meaford Moves+, the door-to-door accessible transit service for those with temporary or permanent mobility limitations. To apply for this service, see www.meaford.ca/transit or contact accessibility@meaford.ca.