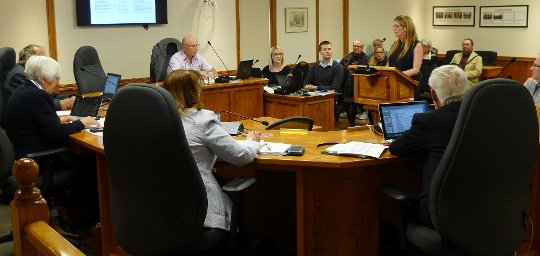 Meaford council met on Monday June 3, for the first of two sessions scheduled to hear from community groups seeking funding from Meaford's new community bursary program.
Council had their work cut out for them as a total of 37 community groups made requests for funding through the bursary program, and the total of the funding requests is more than double the available funding.
"This program was designed to recognize the importance of our community partners by providing ongoing financial support for the programs, services and events that they provide to the residents of our municipality," May or Barb Clumpus told those gathered in the council chamber prior to the presentations.
In February of this year, council approved a bylaw establishing a new Community Bursary Program which replaces the former community grant program.
"The 2019-2022 Community Bursary program budget is $50,000. This total is comprised of $40,000 previously budgeted for the Community grant program and $10,000 for corporate sponsorship (MIFF, Meaford Dragons, Scarecrow Invasion). Both of these programs were replaced by the Community Bursary Program. All previous recipients from both programs were notified of the new Bursary program and invited to apply," staff advised in a report to council.
The new policy requires that applicants must be a community group, not-for-profit or a charitable organization operating in the municipality. According to the new policy, "funded events, programs and services must take place in the Municipality or be shown to have a direct economic or cultural benefit to the municipality."
From the number of applications received, it is clear that the needs in the community are significant.
"37 bursary applications were received by the deadline. These applications total $108,550.00 per year, a total of $58,550, more than the available $50,000. The policy states that no organization shall receive more than 10% of the total funding," staff wrote in their report to council.
Applicant groups were invited to present to council on June 3 and June 4. Organizations seeking funding were given a maximum of 10 minutes to make their presentation to council, including fielding council questions.
Following all of the presentations, Council will have the opportunity to discuss which organizations should be funded for the four year term of Council. ( Presentations to council continue on Tuesday afternoon, and council's decisions will be published once available)
Organizations Seeking Funding and the Amount Requested
Backpacks for Learning at GBCS Food/Supplies for Program $5,000.00

Beautiful Joe Heritage Society Promotion/Events $1,200.00

Big Brothers Big Sisters of Grey Bruce In-School Mentoring Program $3,000.00

Bognor Canada Day Committee Bognor Canada Day $1,500.00

Christ Church Anglican Harvesters' Celebration $750.00

Christ Church Anglican Christ Church Concert Series $2,000.00

Crime Stoppers of Grey Bruce Core Funding $2,500.00

Electric Eclectics Electric Eclectics Festival $2,000.00

Free Spirit Forest and Nature School Registration Fees $5,000.00

Georgian Bay Coyotes Track Club Annual Coyote Cross Country Race $650.00

Georgian Bay Youth Roots Youth Programming $4,600.00

Golden Town Outreach Expansion and enhancements of Community Gardens $5,000.00

Golden Town Outreach Food Bank $3,000.00

Goldenaires Choir Advertising / Promotion $2,000.00

Home + Home Music Fest Festival Supplies / Artist Pay $5,000.00

Kids in the Meaford Hall Promotion of Annual Presentation $5,000.00

Meaford 55+ Friendship Club Friendship Club $5,000.00

Meaford and St. Vincent Agricultural Society Meaford Fall Fair $1,800.00

Chris Scerri Meaford Summer Concert Series $5,000.00

Meaford Chamber of Commerce Meaford Dragons Event $5,000.00

Meaford Creative Arts Association Ongoing Art Group / Terrace Room Rental $1,000.00

Meaford Culture Foundation Meaford International Film Festival $2,000.00

Meaford Farmers' Market Advertising / Signage $3,000.00

Meaford Hospital Gardeners Enhanced Hospital Gardens $5,000.00

Meaford Lawn Bowling Club Marketing & Promotion $2,000.00

Meaford Pickleball Club Promotion, Equipment, Tournaments $2,000.00

Meaford Skating Club Skating Competition, Website Upgrades $1,600.00

Meaford Theatre Company Theatre Production $2,000.00

Meaford United Church Vacation Bible School $1,200.00

REACH Centre Grey Bruce Social Enterprise Programs $5,000.00

Sail Georgian Bay Community Sailing School $2,000.00

Scarecrow Invasion & Family Festival Promotion / Banners $5,000.00

Smile Animal Society Feast of Fields Event $2,000.00

SweetWater Music Festival SweetWater Music Festival $1,850.00

Sydenham and District Optimist Club Canada Day Celebration at Annan $1,500.00

United Way Bruce Grey Community Workshops $1,400.00

Women's House Serving Bruce & Grey Phone Line Expense $5,000.00
Photo: Amy Teed-Acres was the first to make a presentation to council seeking funds from the new community bursary program. Teed-Acres runs the Backpacks For Learning program at GBCS which provides food and other supports to GBCS students in need.