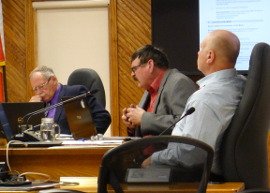 In February of last year Meaford's Chief Administrative Officer (CAO) resigned her position, and in the year since Meaford has not had a CAO, but instead has had an interim acting CAO who doubles as the municipal Director of Development & Environmental Services.
Council delayed making a decision on the hiring of a new full-time CAO until after the municipal election, and with the 2019 municipal budgets approved at their March 25 meeting, council was ready to begin debating the issue.
During council's discussion it was clear that opinions vary regarding the CAO position, and whether Meaford should hire a full-time CAO, appoint an existing director to a dual position, or if a CAO is needed at all.
"The issue that we are ultimately addressing here is the big overarching question about the position of CAO within the Municipality of Meaford," said Councillor Tony Bell. "The first thing that I would like to say is that in the Municipal Act of course it says that we don't even have to have one."
Bell noted that during the election campaign many voters expressed opinions about the CAO position and whether Meaford should hire a full-time CAO. Members of council appear to agree that they need a single point of contact when it comes to communicating with staff, however some appear to favour a full-time stand alone CAO position, while others prefer to appoint an existing director to a dual role.
"We are a population of a little over 11,000 people, and I don't believe that we're large enough to support a full time single position," Bell told council.
Other members of council disagreed.
"A CAO is the key staff position that is totally responsible and accountable for staff, and is accountable to council," Mayor Barb Clumpus said. "I think that key position is extremely important and that there be one point of accountability for council and for the administration."
As for Councillor Bell's suggestion that Meaford is too small to support a full-time CAO, Clumpus expressed a different view.
"I don't think any community is too small to have a single point of contact and accountability between a council and their administration," said Clumpus, who also noted that all other municipalities in the area employ a CAO.
After significant debate among all members of council, they ultimately decided to move forward with the process by voting in favour of appointing a current director as CAO in a dual role, and will hold a special meeting in-camera to interview the current Acting CAO/Director of Development & Environmental Services in order to determine if they wish to make a formal offer of employment.
"At that meeting, Council will either direct the mayor and staff to make an offer of employment, or direct staff to include CAO Recruitment on a future agenda (if they wish to now consider other options/candidates)," municipal Clerk Matt Smith told The Indepenent. "Should Council make an offer to the acting CAO, and if that offer is accepted, then Council will then make an official appointment through by-law at a future meeting."