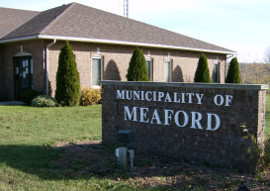 With the publication of the annual 'Sunshine List' on the horizon, the Municipality of Meaford has published its 2018 salary disclosure report. While in previous years the municipality has had as many as six employees on the 'Sunshine List', last year, just three Meaford employees earned enough to make the list.
The Public Sector Salary Disclosure Act, 1996 requires organizations that receive public funding from the Province of Ontario to disclose annually the names, positions, salaries and total taxable benefits of employees paid $100,000 or more in a calendar year.
The following staff with the Municipality of Meaford are included on the 2018 salary disclosure list, as submitted to the Province in March, 2019.
Robert Armstrong, Acting CAO/Director of Development & Environmental Services – Salary of $129,481.45, Taxable benefits $ 1,493.40

Darcy Chapman, Treasurer/Director of Financial Services & Infrastructure Management – Salary of $119,774.20, Taxable benefits $1,387.62

Phillip Taylor, Manager, Transportation & Fleet Services – Salary $103,090.02, Taxable Benefits $1,156.72