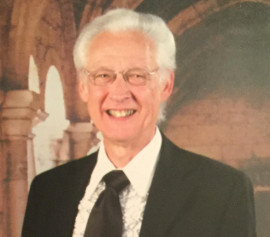 A new but familiar face has entered the upcoming municipal election. Ross Kentner, long-time radio personality and General Manager of Bayshore Broadcasting in Owen Sound has decided to take a run at a council seat.
"I have always wanted to serve my community but had to sit on the sidelines as long as I was on the air or even involved in broadcasting," Kentner said of his candidacy.
Kentner noted that with his candidacy announced, the Georgian Bay Explorer, which still airs on CFOS will be discontinued as the CRTC considers on-air personalities who seek public office to have an unfair advantage over other candidates.
Kentner retired in April after 38 years at the helm of Bayshore Broadcasting. He began his broadcast career as an announcer but quickly gravitated to news and management.
"I covered many meetings of Meaford council starting when Gord Crapper was Mayor. I also covered Grey and Bruce County Councils for years, and that's where I developed a keen interest in local governance. It's the bedrock of our democratic system," Kentner said.
Having lived in Meaford for more than 60 years, Kentner says "this is an exciting time to be living in Meaford which is quickly becoming known for its world-class lifestyle and amenities."
Kentner's candidacy brings the total number of candidates to five thus far, with the other four being current members of council. Last month Mayor Barb Clumpus announced her bid to be re-elected as mayor, current Deputy Mayor Harley Greenfield decided to run for a regular council seat, and Councillor Tony Bell also filed his nomination papers with the clerk to seek reelection as councillor.
Election day is October 22, and those hoping to campaign for a seat on council have until July 27 to file their nomination papers with the municipal clerk.
Candidate packages are available for pick-up at the municipal administration office at 21 Trowbridge Street West, and online at www.meafordvotes.ca. Candidates are asked to make an appointment with the Clerk's Department to file their nomination papers.
Information about nominations:
Nominations are open from May 1 to July 27, at 2 p.m.

Filing fees are $200 for Mayor or $100 for Councillor or Trustee.

Photo ID must be shown at time of filing.

Nomination forms must be filed before candidates can accept election contributions or incur campaign expenses.
For information on the municipal election, visit www.meafordvotes.ca, email election@meaford.ca or call 519-538-1060.