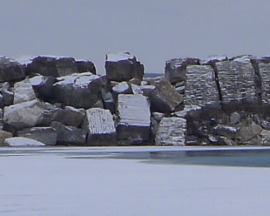 In a letter to Larry Miller, Member of Parliament for Bruce-Grey-Owen Sound, the Honourable Dominic LeBlanc, Minister of Fisheries and Oceans and the Canadian Coast Guard, has confirmed that repairs needed at the Meaford Harbour will be funded under Budget 2018.
The Meaford Harbour breakwall is in desperate need of repair after a storm in October 2017 caused significant damage (estimated between $65,000-$75,000).
On March 27, Miller hand-delivered a letter to the Minister on the floor of the House of Commons outlining his disappointment that the Department of Fisheries and Oceans (DFO) was refusing to honour a five-year lease agreement signed by DFO and the Municipality in 2016. The agreement clearly stated that, for the duration of the lease, the Municipality would not "be responsible to effect repairs of any major structural kind". Miller followed up with another letter to the Minister on May 7. He also questioned the Minister during Question Period in the House of Commons and at the Standing Committee on Fisheries and Oceans.
The Minister's letter in response states that the project will now be funded under Budget 2018 and that regional staff "are in the process of completing the plans and specifications for the repairs". The letter explains that the work is anticipated to start in fall of 2018 with work to be completed in March 2019.
Barb Clumpus, mayor of Meaford said, "We are very pleased to learn that the damage to our harbour breakwall created by the storm last October will be repaired by the Department of Fisheries and Oceans. Our beautiful harbour is home to the Coast Guard and is an important feature in our community, a tourist attraction, and a recreational playground for residents and visiting boaters. Our partnership with the Federal Government in managing this asset has contributed to our claim of having the prettiest harbour in southern Georgian Bay, and this news today is welcome indeed. I would like to thank our MP Larry Miller for his continued support of our small community and in particular his determined efforts to reach this positive resolution."
"I am very pleased to see that the Government will commit to honouring their agreement with the Municipality and will fund these repairs," said Miller. "The repairs are desperately needed and I thank the Minister for instructing his officials to work resolve this issue. I would also like to thank Mayor Clumpus for her tireless work to ensure that the Meaford Harbour remains safe and operational for years to come."