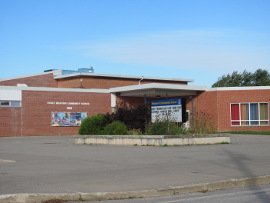 The Municipality of Meaford will lease part of the former Meaford Community School property to use as public parkland while the new owner of the property finalizes plans for redevelopment.
Council gave final approval to the proposal at their April 23 meeting.
"In the fall of 2017, The Bluewater District School Board released a tender for the sale of the former Meaford Community School, as it was deemed surplus with the Provincial funding announcement to build a new JK to Grade 12 school. The lands were purchased by 2600488 Ontario Limited, who is in the process of evaluating redevelopment options of the lands with the Municipality," explained acting CAO Rob Armstrong in his report to council. "The lands surrounding the Meaford Community School building have historically been used as a park, with some recent upgraded playground equipment and basketball nets. Further, the Parks and Recreation Master Plan recognized this park area in the evaluation of the adequacy of parks within the Municipality."
Under the lease agreement, the municipality will pay a nominal rental fee of $2 per month, and will be responsible for cutting the grass, however Armstrong's report noted that the municipality will not make any improvements to the property.
"The annual cost of grass cutting to the Municipality will be $3,900 and the increased insurance costs will be negligible. With regard to our inspection requirements, it is anticipated that this will cost us $1,400 annually," Armstrong advised in his report to council. "It is the opinion of staff that this interim lease is a benefit to the community by maintaining the use of the lands for park purposes until such time as the lands are redeveloped. Further, this arrangement is at a minimal cost to the Municipality."
The proposed lease is for 21 years less a day with either party having the ability to terminate the agreement with 30 days notice.
Members of council were supportive of the plan, voting unanimously in favour of the proposal.