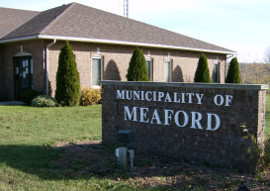 At their March 12 meeting, Meaford councillors were presented with a report outlining a temporary departmental realignment aimed at filling gaps after the departure of Meaford's CAO, and council's decision to not fill the position until after the October municipal election.
The proposed temporary realignment was initially presented to and supported by council during a closed session meeting on February 26, and it will see a number of adjustments in responsibilities among municipal management.
"It is important to note that it is critical to undertake an immediate interim re-alignment within the organization as the current Director of Development and Environmental Services cannot assume the additional roles, while maintaining their current responsibilities. It being noted that the previous CAO currently had a dual role of CAO and oversight of the Parks, Recreation and Culture division," noted Acting CAO Rob Armstrong in his report to council.
The realignment will see the Parks and Facilities department now reporting the Director of Financial Services and Infrastructure Management, Darcy Champan, while Cultural Services, which includes Meaford Hall and the museum along with Communications and Recreational programming will be handed over to the Library CEO Cathy Lee. Economic Development and HR personnel matters will fall under the umbrella of the Director of Development and Environmental Services/Acting CAO Rob Armstrong, while Fire/HR Administration/Health and Safety/Legal and the Policing contract will fall within the scope of the Director of Legislative and Protective Services, municipal Clerk Matt Smith.
"The creation of this new Cultural Services Director includes the CEO of the Library. In order to implement this change, the Library Board agreed to a secondment of 50 percent of their CEO's time to the Municipality so they can take on the additional roles," Armstrong noted.
While the realignment will help fill the gaps in the absence of a CAO, it will also save the municipality some money.
"The estimated savings resulting from this interim re-alignment is approximately $255,000. This will include an estimated inter-functional transfer of approximately $55,000 to the Meaford Public Library Board for the secondment," Armstrong informed in his report.