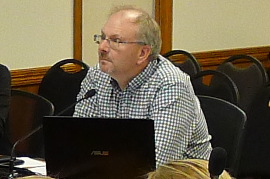 The Municipality of Meaford has announced that Rob Armstrong, current director of Development and Environmental Services, has been appointed interim acting Chief Administrative Officer, effective February 26.
Current CAO Denyse Morrissey will leave her post with the Municipality on February 26, after five and a half years in the position. At their February 12 meeting council voted in favour of delaying the hiring of a new CAO until after the October 22 municipal election. Council decided that they would appoint an internal acting CAO to assume the duties in the meantime.
In recent years municipal directors have rotated as acting CAO for short periods of time in order to accommodate vacation time or other times when the CAO is away.
"Mr. Armstrong has filled this position on several temporary occasions. His personal collaborative style, and extensive knowledge and expertise of department priorities, staff roles, and the opportunities ahead of us all provide the foundation for this leadership role in moving the municipality forward," said the municipality in the announcement of the appointment.
Armstrong was born in Toronto but has lived in Meaford since 1989. He has worked for the Municipality for nearly 10 years. Previously Amstrong had worked for the Town of the Blue Mountains for nearly 17 years, and before that he worked for the County of Grey from 1987 until 1991.